If you're not careful, the newspapers will have you hating the people who are being oppressed, and loving the people who are doing the oppressing.

- Malcolm X
What The Conferences Are
At present, the way in which information is created, manipulated and distributed marks, more than in any other time, the evolution of social, political, cultural and economic processes. The mass media are a tool through which governments, international organizations and transnational corporations are able to impose changes and scenarios that go against the interests and rights of the people and the planet, through a single discourse of a subjective nature that is based on the informational silence of the realities that question the current system, and the information to build a reality conducive to their interests.
The conferences "Communication, Power and Counterpower" will take place from November 17 to December 8 2017 and has as main objectives:
Map the causes and consequences of the communication system in today's society.
Learn about communicative projects and initiatives that generate alternatives when building societies.
Learn how people can use communicative tools to rebuild the world.
Know how to handle infoxication and silence in information.
Understand the real power of the media.
Know the diversity in the type of communicative activism.
In order to analyze all these problems, the "Communication, Power and Counterpower" Conferences will consist of different lectures with specific subjects that will delve into each one of them from a critical point of view, looking also for proposals that build alternative models both in information processes and in the creation of counterpower from the field of communication.
Program
A Coruña
Thursday 11/23/2017 - MARCOS PÉREZ "Every journalist has his/her own truth. War of stories in a fragmented world", Casares Quiroga House Museum (Panaderas St, 12) at 7:30 p.m.
Friday 11/24/2017 - ANTONIO CARO "Advertising as an instrument of power", Alexandre Bóveda Cultural Association (Olmos Street, 16) at 8:00 p.m.
Madrid
Thursday 11/30/2017 - ALEJANDRO BARRANQUERO "Strategies for media reform. Is it possible to subvert the media system?", CSA Playa Gata (Cardenal Herrera Oria ave., 80B) at 8:30 p.m.
Montpellier
Friday 12/08/2017 - PHILIPPE CORCUFF "Criticism of media and emancipation in today's world", Espace Martin-Luther-King, (27 boulevard Louis-Blanc, 34000) at 7:00 p.m.
Montreal
Friday 12/08/2017 - DMITRI VITALIEV "Manipulating the net, stories of censorship and defensive security", McGill University (3480 McTavish St, Montreal, QC H3A 1X9 [Room 203A, 2nd Floor]) at 7:00 p.m.
Santiago de Compostela
Friday 11/17/2017 - JOSÉ CANDÓN "A cage with windows: Risks and opportunities for digital activism", Gentalha do Pichel (Santaclara St, 21) at 9:00 p.m.
Vigo
Saturday 11/18/2017 - JOSÉ "PEPE" RIBAS "Does free press exist?", De Catro a Catro (Girona St, 16) at 8:00 p.m.
Saturday 11/25/2017 - MAGDA BANDERA "Myths about the supposed digital revolution in the media", O Serán (Manuel Núñez St, 29, Bajo) at 8:00 p.m.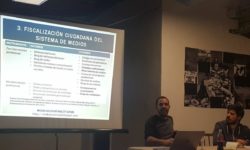 Last Thursday, January 19, the last lecture that put an end to the Communication, Power and Counterpower Conferences took place. We met at the CSA Playa Gata where, in the hands of Alejandro Barranquero, we approached an analysis of the possibilities we have to subvert the current media system. In…