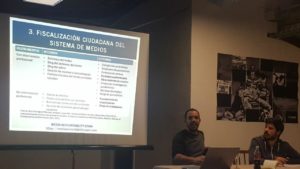 Last Thursday, January 19, the last lecture that put an end to the Communication, Power and Counterpower Conferences took place. We met at the CSA Playa Gata where, in the hands of Alejandro Barranquero, we approached an analysis of the possibilities we have to subvert the current media system.
In this lecture entitled "Strategies for media reform. Is it possible to subvert the media system?", Alejandro, through a fluent conversation with the public, unraveled the current potential that may help to reform the current communication model, such as the proliferation of alternative media, or new ways to communicate. One of the points he highlighted was the need to compare the great organizational capacity of capitalism with a quality organization, creating networks that flee from the usual endogamy of the left. He pointed out that the best time to carry out this task is taking advantage of the different moments within a crisis.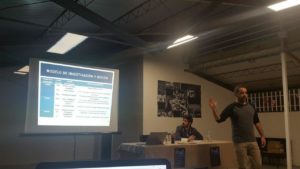 Some of the tools that were pointed out to carry out this changes are: the audit of media, the use of collaborative tools, such as maps, the creation of cooperative media and citizen research that facilitates the transparency of political and media activities, among others.
With this lecture we closed the Communication, Power and Counterpower Conferences, which, after passing through Santiago de Compostela, Vigo, A Coruña, Montpellier and Montreal finalize their journey with this last step in Madrid. In this path, we went through the world of communication and its relationship with power, in order to analyze the possible alternatives to build a new communication model that respects the planet and those who inhabit it.
More Information:
https://comunicacioncontrapoder.ecoarglobal.org/en/
Become interested:
WARMING UP IN PONTEVEDRA: WOMEN IN THE MEDIA
THE FIRST STEP: PROBLEMS AND OPPORTUNITIES OF DIGITAL ACTIVISM
SECOND STEP: FREEDOM OF PRESS FROM THE TRANSITION UNTIL TODAY
THIRD STEP: FRAGMENTED REALITIES, INFORMATION HAZARDS
FOURTH STEP: ADVERTISING AS A POWER TOOL
FIFTH STEP: THE EMERGENCY SITUATION IN ACCESS TO INFORMATION
SIXTH STEP: EMANCIPATION AS INDIVIDUAL RESPONSIBILITY
SEVENTH STEP: HOW INFORMATION IS MANIPULATED THROUGH THE NET