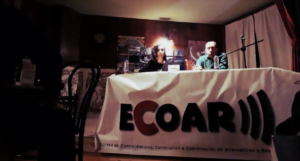 Last November 18, we met at the café De Catro a Catro to attend Pepe Ribas' lecture, founder of Ajoblanco, one of the countercultural publications most linked to the years of the Transition. This lecture, which is part of the Communication, Power and Counterpower Conferences, served to delve into the concept of freedom of press, being the second step that will help us analyze communication and power relations that are woven through it.
The conference entitled "Is there free press?" allowed us to review the press that emerged at the time of the Transition, and how it was transformed, little by little, into what is today, through harassment, bribes and the purchase of the distribution channels of the written press; besides analyzing how some of these media end up being controlled by the political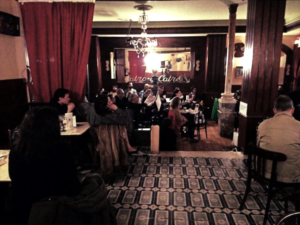 power or the big transnationals, through subsidies and publicity. Pepe also gave us his vision of the crisis of the written press and the role that the internet can play in the future of communication and social changes. He pointed out in he last section that the 15M Movement entailed a turning point at a state level, so that social affairs would return to be the topic of habitual conversation. The lecture ended with a debate, in which people from a wide spectrum of society intervened, which helped to broaden the enriching experience of this act.
With the firm task of reflecting, we parked this walk we are doing around the world of communication until the next events that will take place in A Coruña, Madrid, Montpellier, Montreal and again we will meet in Vigo. See you on the 23rd in A Coruña to attend the lecture of Antonio Caro "Advertising as an instrument of power". Do not miss it!
More Information:
Become interested:
WARMING UP IN PONTEVEDRA: WOMEN IN THE MEDIA
THE FIRST STEP: PROBLEMS AND OPPORTUNITIES OF DIGITAL ACTIVISM